Unforgettable
Elon Events
Whether it's an alumni dinner, a professors' meeting, or a wedding reception with your new spouse, The Inn at Elon is the ideal venue for a wide range of events and gatherings. Mark the occasion with fond memories while you celebrate among Elon's beautiful botanical gardens.
Weddings & Events Highlights
5,700 sq. ft.
of flexible event space
Outdoor patio
& courtyard with fire pits
Professional meeting planner
& catering staff
Customized catering menus
Audiovisual equipment
rentals & support
Group room blocks
Event Spaces
1 / 5
Main Ballroom
5,164 sq. ft. • Accommodates up to 450 guests
The Main Ballroom offers 5,200 square feet of divisible event space, and is perfect for weddings, rehearsal dinners, academic conferences and corporate gatherings. Crown moldings and elegant, neutral decor come together to create an attractive and versatile choice.
2 / 5
Outdoor Patio & Courtyard
3,802 sq. ft.• Accommodates up to 300 guests
Spread out and enjoy a brunch or cocktail reception overlooking our manicured courtyard, perfect for al fresco gatherings.
3 / 5
Conference Room
527 sq. ft. • Accommodates up to 30 guests
The Conference Room is the perfect place for executive retreats or corporate training sessions.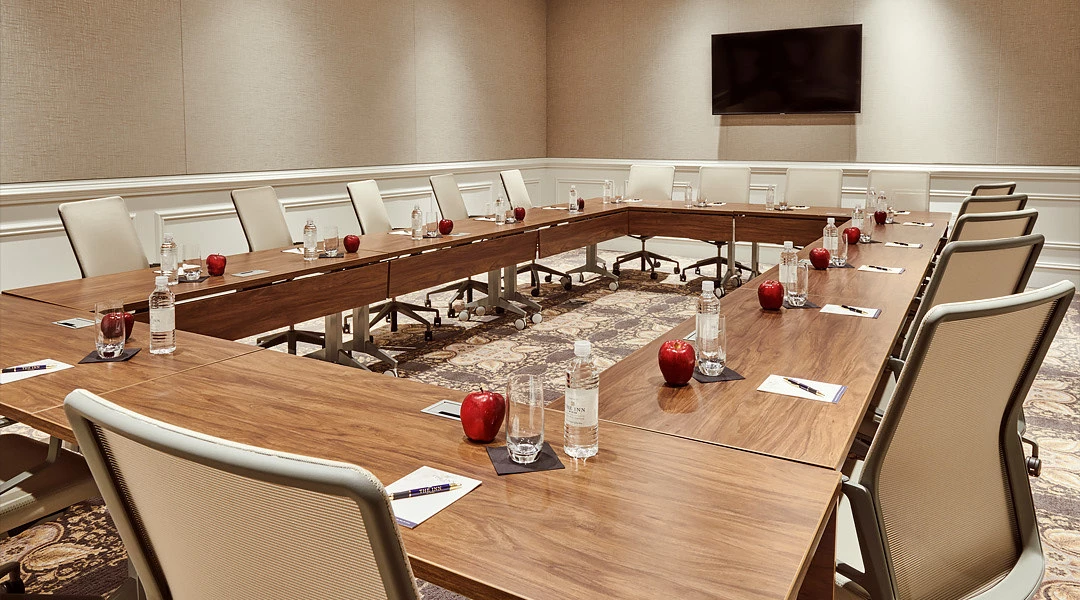 4 / 5
The Mark at Elon
Accommodates up to 113 guests
Our on-site restaurant and lounge is available to be rented. Our culinary team is happy to design a dinner with wine pairings that's sure to impress.
5 / 5
Private Dining Room
Accommodates up to 12 guests
Host smaller private events, such as corporate dinners and family gatherings, in the refined comfort of The Mark's private dining area.
Special Events For Every Occasion
1 / 3
Weddings
Celebrate the special moments of your life in the place that shaped who you are, surrounded by family and friends. The Inn at Elon welcomes wedding receptions, rehearsal dinners, next-day brunches, and bridal showers, offering room blocks to accommodate your guests with ease.
2 / 3
Meetings
A sophisticated ballroom and stylish conference room set the scene for engaging and productive business meetings. Our spaces are a great fit for corporate retreats, award ceremonies, training seminars, or networking receptions.
3 / 3
University Events
Enjoy a prime location on campus during your university event, including academic conferences, planning retreats, or departmental celebrations.
Venue Specifications
Our Venues
Our flexible event space is designed to suit events of all sizes, from large-scale celebrations to more intimate gatherings.
Sq. Ft.
Room Size
Ceiling Height
Classroom
Theater
Rounds of 10
Rounds of 8
Reception
Conference
U-Shape
Hollow Square
10x10 Booths
Main Ballroom
5164
88'x57'
13'
275
400
350
280
450
-
-
-
27
Ballroom Salon A
2099
57'x35'
13'
110
180
100
80
125
40
48
52
7
Ballroom Salon B
966
57'x17'
13'
55
100
50
40
40
35
30
20
4
Ballroom Salon C
2099
57'x35'
13'
110
180
100
80
125
40
48
52
7
Conference Room
527
27'x19'
11'
16
30
20
16
20
20
16
20
-
Replogle Gallery
Prefunction
1651
88'x18'
13'
-
-
-
-
75
-
-
-
4
Mullin Terrace
1218
88'x29'
13'
-
75
60
48
100
-
-
-
7
Lutz Family
Colonnade
2524
98'x82'
13'
-
90
100
80
100
-
-
-
4
Courtyard
3802
74'x51'
-
-
300
200
180
300
-
-
-
10